There are just a few days left in the year 2014, and moments from the past year dance through my mind. Travels I've undertaken, time spent with family, both good and heartbreaking, laughs with friends, new people experienced and new friends made. It was mostly a good year — actually, a great one.
The best way to end this year is in Santa Cruz, a place I call my hometown, although I was not born here. My family moved here when I was 12 years old. I left at age 21, traveled the world and ended back in Los Angeles. But my mother, brother and his daughter still live in Santa Cruz.
I find the beauty of Santa Cruz — the redwood-filled mountains, and it's cove-filled beaches — the perfect setting to relax, and reflect on the past year. Just stepping outside my mother's little home and taking a walk down the street in Felton, one of the first little communities people pass by on Highway 9 when entering the mountains, re-energizes me. The clear blue skies, fresh air and green all around — I inhale deeply and when I let my breath out, I am renewed.
Many homes are quaint craftsman in style. Others are basic redwood cabins, the kind I lived in when we first moved to Brookdale, which is further up Highway 9. Thin cabin walls barely kept the cold out during winter back then, but a huge river rock fireplace in our living room kept us warm.
One of my favorite things to do is watch the sunset from Pleasure Point, at the end of 41st Avenue in Capitola. In high school I learned how to surf  this spot, where the waves on the southern end usually are low and long. The other day I stopped at Pleasure Point Pizza, which is featured in the surf film "Mavericks," and got a huge slice of Pepperoni Pizza and a coke, and went to the cliffs to watch the sunset. It's calming to gaze at the ocean, and watch the sky change colors from a warm gold to a deep, rich red-golden hue.
Another great aspect about Santa Cruz is the history, food, and the variety of live music. I had dinner the other night at Stagnaro Bros., which has been located on the wharf in downtown Santa Cruz for almost 75 years. It was founded by brothers Ernesto and Giovanni Stagnaro, whose parents came from Northern Italy to Santa Cruz via Ellis Island in 1918. The brothers ran the fish seafood market and restaurant until 2004, upon Giovanni's death. Family members still work at the restaurant to this day.
On Monday nights the restaurant offers a fantastic special, Cioppino, for $10.95. Normally the price is $24.95. A shallow bowl is filled with baby scallops, shrimp, crab legs and shellfish, and bathed in a thick, tasty tomato broth. I added some tabasco to spice it up a bit.
I went back the next day with my mom to try out their happy hour specials on the upper deck. We were just in time for a beautiful sunset, and snacked on calamari strips, clam chowder and a seared ahi tuna on a bed of greens. All dishes were $8.95 each, and house wine and draft beers were $3 each. Not bad. Warning, don't order the prawn tacos. They are not made with prawn, but baby shrimp, and are not tasty enough to make up for the difference.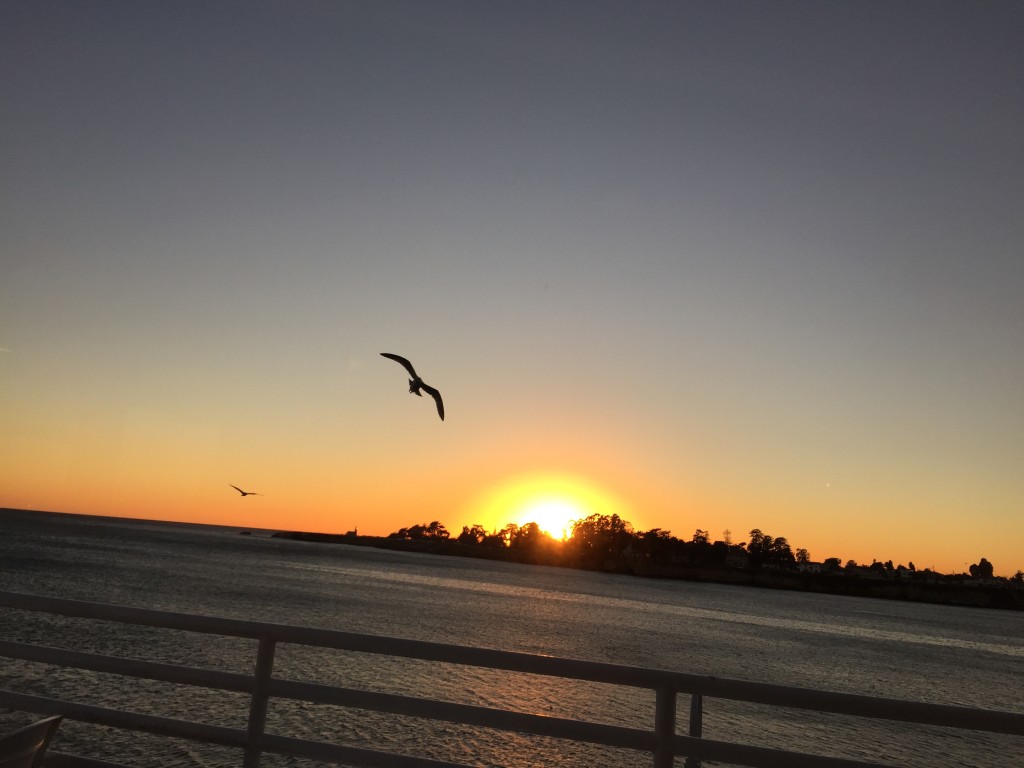 While the weather dipped to near freezing just before New Year's Eve, people were out and about in Santa Cruz, at the wharf, on the West Cliffs, Downtown and elsewhere, spending the last days of 2014, I imagine, enjoying the quirkiness and beauty of this coastal town as much as my mother and I.
"Santa Cruz is great isn't it," my mother said, as we drove down River Street, past downtown back to the mountains.

"Yes it is," I answered.